List of products by manufacturer Sardamatic
Ideal for bottom fishing or at medium depth, slowly crush the sardines on the bottom or in the water thanks to the swell.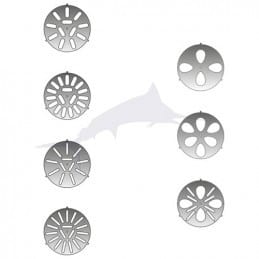 Different perforations to vary the size and appearance of the "Broumé"
Device used to grind sardines, to obtain a mashed "broumé".
It is the ideal machine for efficient sardine distribution in drift fishing, big tunas, sharks, swordfish (at night) and other...
Manual Sardamatic crusher for priming broumé fishing ...