There are no more items in your cart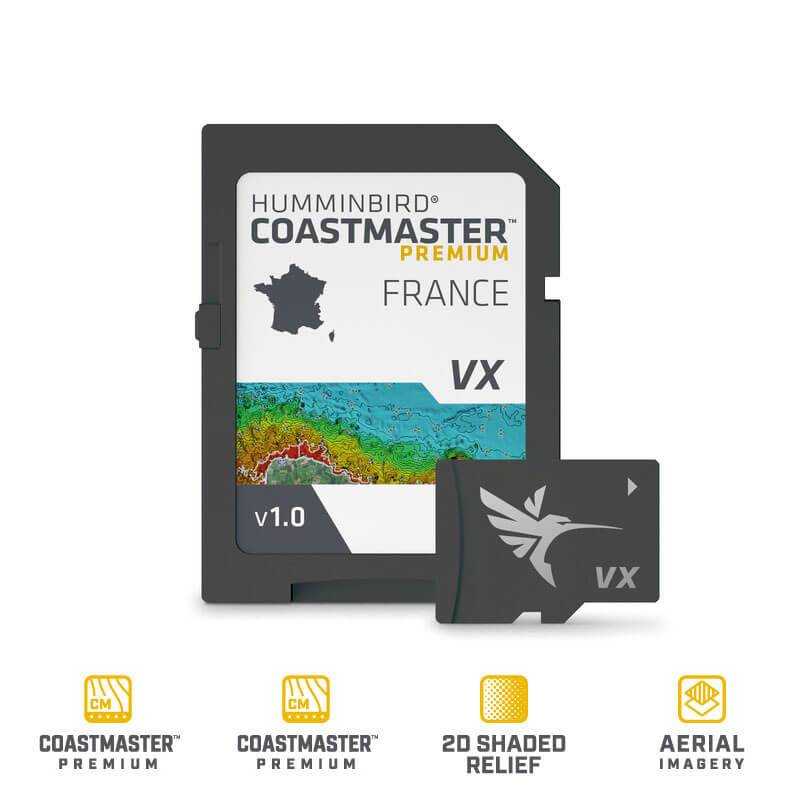  
CoastMaster Premium France
Humminbird's CoastMaster France map offers highly accurate map coverage of the entire French and Corsican coastline.
From easy-to-read contours to highlighted depth ranges, you'll have the tools you need to find the best fishing spots and navigate them safely.
Tides & Currents provides current speed and direction, as well as tide height and direction.


38 years of experience in exotic fishing
Coastmaster Premium
Vitesse et la direction des courants
3 vues prédéfinies
Images aériennes
Relief Ombragé
VX TECHNOLOGY
VX Vector cards offer exceptional performance and the ability to change color palettes.
MAP DISPLAYS
Simple and easy to switch from fishing to nautical charts, or create your own display settings
MARÉES & COURANTS
Provides current speed and direction, as well as tidal height.
MAP SETTINGS
Create up to four depth highlight ranges and a red shallow water highlight. Also synchronize depth contours with changing water levels and identify areas uncovered during low tide.
OMBRAGED RELIEF
Quickly identify the best fishing spots thanks to the shaded relief, which makes it easier to understand the water bottom
AERIAL IMAGERY
Navigate with confidence and identify new fishing spots with aerial imagery.
Specifications :
Using predictive software, CoastMaster lets you plan your day's fishing with tide direction and height, as well as current speed and direction.
Navigate safely and quickly identify where fish are hiding with red highlights for shallow water areas over an adjustable range of zero to 10 meters.
Synchronize the depth contours and shorelines on your CoastMaster charts with actual water levels, so your chart reflects the current water level at your fishing locations.
Access a wealth of navigation data, including navigation aids, artificial reefs and points of interest.
ONE-BOAT NETWORK : Your i-Pilot Link engine, Humminbird handset and LakeMaster chart are now interconnected. Allowing you to automatically track every bathymetric contour line and giving you precise control of your boat's anchor and drifts.
Compatible with Humminbird HELIX® G3 / G3N and newer, all SOLIX® units and all APEX ™ units.
No customer reviews for the moment.