There are no more items in your cart
 
Minn Kota RIPTIDE TERROVA BT
Riptide Terrova BT Minn Kota range Front mounting Saltwater


42 years of experience in exotic fishing
All in One
Power
Try up to 112 pounds of thrust.
Control
 You can equip it with wireless GPS remotes, and stow and deploy it effortlessly with new Lift-Assist Design. 
Lift Assist Design
Riptide Terrova's new Lift-Assist Design takes the work out of stowing, making it effortless every single time, so you can raise the motor by barely lifting a finger.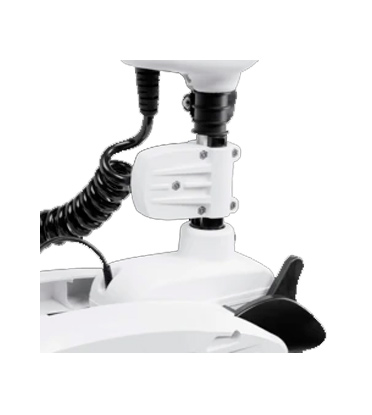 Stow/Deploy Lever
Easy in. Easy out. Everyday. That's the thought behind Riptide Terrova's innovative stow/deploy mechanism. The balanced motor design makes stowing easy, and a master cut-off switch automatically turns off the motor when stowed.
New iPilot Link
Link lets you control your motor from your Humminbird or its new touch-screen remote. It includes the most accurate Spot-Lock ever, every i-Pilot feature, plus the ability to follow depth contours, save and retrace your Humminbird Current Track, and return to waypoints. Available on select models.
New iPilot
The most popular GPS trolling system now features a larger LCD screen and more intuitive control. Get the most accurate Spot-Lock ever, plus Advanced AutoPilot, track recording, and control of speed, steering and cruise control. Available on select models.
Push to Test Battery Meter
Riptide Terrova's Push-to-Test Battery Meter gives you an instant "state of charge" reading at the push of a button, so you can see just how much longer you have on the water.
In the package
Riptide Terrova BT motor
Weedless Wedge 2 propeller
Notice

Data sheet
Shaft length

137 cm
152 cm
182 cm
220 cm

Weight

28 Kg

Thrust

55 Lbs
80 Lbs
112 Lbs
No customer reviews for the moment.
Product
Version
Shaft length
thrust
Voltage
Stock
Price (tax excl.)
IPilot BT
182 cm
80Lbs
24Vcc
check
IN STOCK
3415.84 €
IPilot BT
182 cm
112Lbs
36Vcc
bookmark_border
ON ORDER
3915.83 €
IPilot BT
152 cm
112Lbs
36Vcc
bookmark_border
ON ORDER
3665.83 €
IPilot BT
152 cm
80Lbs
24Vcc
bookmark_border
ON ORDER
3249.17 €
IPilot Link BT
152 cm
80Lbs
24Vcc
bookmark_border
ON ORDER
3582.5 €
IPilot BT
152 cm
55Lbs
12Vcc
bookmark_border
ON ORDER
2749.17 €
IPilot BT
137 cm
55Lbs
12Vcc
bookmark_border
ON ORDER
2665.84 €
IPilot Link BT
182 cm
112Lbs
36Vcc
bookmark_border
ON ORDER
4165.83 €
IPilot Link BT
182 cm
80Lbs
24Vcc
check
IN STOCK
3749.17 €
IPilot BT
220 cm
112Lbs
36Vcc
bookmark_border
ON ORDER
4749.17 €