There are no more items in your cart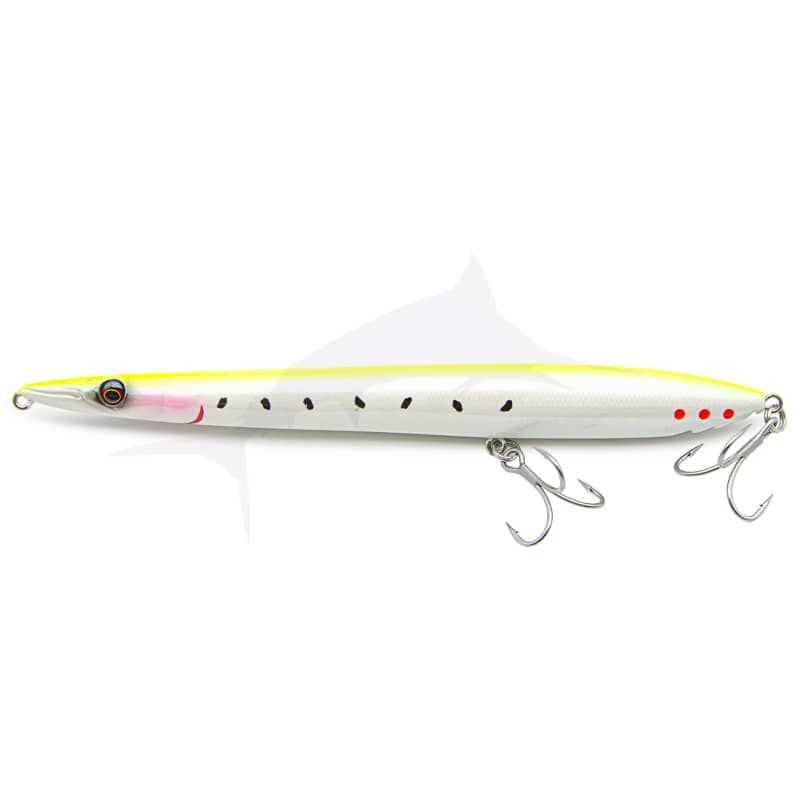  
Savage Gear Surf Walker 2.0
The Surf Walker 2.0 is much more than a reintroduction of a former model.
This is a complete overhaul that makes one of our best saltwater walking lures even better.
This new and improved version of the Surf Walker casts up to 30% further than the original thanks to a completely redesigned weight system that also produces a more stable flight while in the air.
We have also enhanced the walking action by up to 50%, so just the tiniest twitch of the rod will set it off dancing through the water and attracting nearby predators.
This new version comes in a wide range of stunning colours that also include an intense strike point near the tail composed of three UV red dots to imitate a wound.


42 years of experience in exotic fishing
This target is just above the rear hook to help reduce the chance of missing bites.
You'll be catching sea bass, bluefish, barracudas, leerfish and more in no time at all.

⦁ Ultimate distance casting
⦁ Enhanced walking action
⦁ Intense strike point
⦁ Slim, enticing body
⦁ Super strong saltwater hooks
No customer reviews for the moment.
Product
Size
Version
Model
Weight
Stock
Price (tax excl.)
12.5cm
Floating
Atherina
9.5 g
check
IN STOCK
9.58 €
12.5cm
Floating
BR Mullet
9.5 g
check
IN STOCK
9.58 €
12.5cm
Floating
Mirror Sardine
9.5 g
check
IN STOCK
9.58 €
12.5cm
Floating
Sayoris GD
9.5 g
check
IN STOCK
9.58 €
12.5cm
Floating
Snow White
9.5 g
check
IN STOCK
9.58 €
12.5cm
Floating
Sunset Sardine
9.5 g
check
IN STOCK
9.58 €
15.5cm
Floating
Atherina
17 g
check
IN STOCK
10.41 €
15.5cm
Floating
BR Mullet
17 g
check
IN STOCK
10.41 €
15.5cm
Floating
Mirror Sardine
17 g
check
IN STOCK
10.41 €
15.5cm
Floating
Sayoris GD
17 g
check
IN STOCK
10.41 €
15.5cm
Floating
Snow White
17 g
check
IN STOCK
10.41 €
15.5cm
Floating
Sunset Sardine
17 g
check
IN STOCK
10.41 €
18cm
Floating
Atherina
29 g
check
IN STOCK
11.24 €
18cm
Floating
BR Mullet
29 g
check
IN STOCK
11.24 €
18cm
Floating
Mirror Sardine
29 g
check
IN STOCK
11.24 €
18cm
Floating
Sayoris GD
29 g
check
IN STOCK
11.24 €
18cm
Floating
Snow White
29 g
check
IN STOCK
11.24 €
18cm
Floating
Sunset Sardine
29 g
check
IN STOCK
11.24 €
15.5cm
Sinking
Purple GD
26.5 g
check
IN STOCK
10.41 €
15.5cm
Sinking
Red Belly Sardine
26.5 g
check
IN STOCK
10.41 €
15.5cm
Sinking
Sardine GD
26.5 g
check
IN STOCK
10.41 €
15.5cm
Sinking
Sayoris HK
26.5 g
check
IN STOCK
10.41 €
15.5cm
Sinking
Snow Lemon
26.5 g
check
IN STOCK
10.41 €
18cm
Sinking
Purple GD
42.5 g
check
IN STOCK
11.24 €
18cm
Sinking
Red Belly Sardine
42.5 g
check
IN STOCK
11.24 €
18cm
Sinking
Sardine GD
42.5 g
check
IN STOCK
11.24 €
18cm
Sinking
Sayoris HK
42.5 g
check
IN STOCK
11.24 €
18cm
Sinking
Snow Lemon
42.5 g
check
IN STOCK
11.24 €